Danube basin:

flood, low flow, hydrometeorological conditions, water quality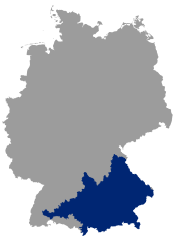 The River Danube is formed at the confluence of the Rivers Breg and Brigach in the Black Forest near Donaueschingen and flows into the eastern Black Sea via an extensive delta. With a length of 2857 km, it is the second longest river in Europe. The international river basin district Danube, in which 19 states participate, covers an area of 807827 sq. km. It includes the catchment area of ​​the Danube (801463 sq. km), and also smaller areas on the coast of the Black Sea. 7 % of the Danube river basin district are within Germany, 1 % in Baden-Württemberg (around 8050 sq. km) and 6 % (around 48200 sq. km) in Bavaria. [1]
The largest tributaries of the Danube are March (Morava), Váh, Tisza, Olt, Sereth, Pruth on the left side and Lech, Isar, Inn, Traun, Enns, Drau, Save, Morava (Serbia) and Iskar on the right side.
Hydrologically, the Danube can be divided into three sections: the upper section to the Porta Hungarica including the Morava tributary (March), the middle section to the Iron Gate between the Southern Carpathians and the Balkan Mountains (Stara Planina) and the lower section with the delta to the Black Sea.
The upper Danube section is divided into eleven planning areas according to the international coordination on the implementation of the EU Water Framework Directive, which are split among six countries. Germany is responsible for the planning areas "Danube (Baden-Württemberg)", "Iller-Lech", "Altmühl-Paar", "Isar", "Naab-Regen" and "Inn".
The River Basin Community Danube (FGG Donau) and - with the participation of Germany - the following international or bilateral commissions / working groups are committed to water protection and flood risk management of the Danube and its tributaries:
Danube:


Selection of gauges / water quality moni­toring sta­tions

Danube:


Current hydro­meteo­rological condi­tions

Danube:


Extreme floods / low flows

Danube:


Current water tempera­ture / oxygen con­tent
The Danube in Austria and other countries
Research projects / programmes